Descrizione del corso
Nel corso Oracle Database 19c: Performance Management and Tuning, si apprende come conoscere le analisi e messa a punto attività di prestazioni previste di un DBA: gestione proattiva attraverso funzionalità integrate di effettuazione delle analisi e strumenti, diagnosi e messa a punto dei componenti istanza di database Oracle, e la diagnosi e messa a punto di problemi di prestazioni relativi a SQL. Il corso ha una durata di 4 giornate. Per partecipare con profitto al corso Oracle Database 19c è necessario essere in possesso dei seguenti prerequisiti:
Conoscenza operativa di SQL
Saper utilizzare i pacchetti PL / SQL
Avere familiarità con il sistema operativo Linux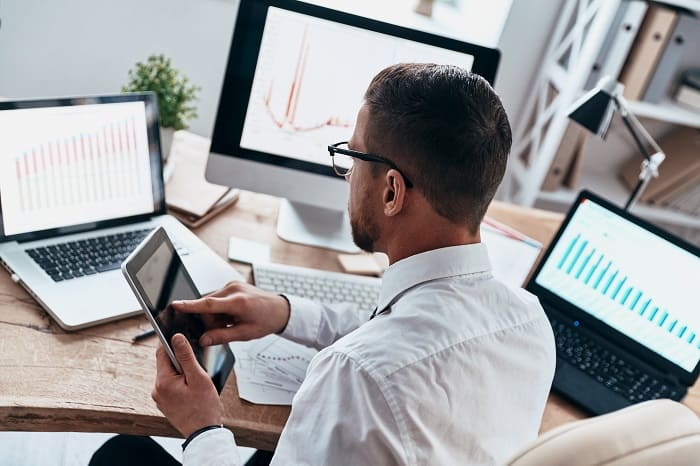 Obiettivi del corso Oracle Database 19c: Performance Management and Tuning
Al termine del percorso i partecipanti sapranno:
Utilizzare la metodologia di ottimizzazione di Oracle Database
Utilizza dei database advisors per ottimizzare un'istanza Oracle Database
Utilizzare gli strumenti basati sull'Automatic Workload Repository per ottimizzare il database
Diagnosticare e ottimizzare problemi comuni relativi a SQL e di prestazione
Utilizzare le pagine relative alle prestazioni di Enterprise Manager per monitorare un database Oracle
Stai cercando altri corsi per approfondire o ampliare le tue conoscenze e rendere il tuo Curriculum Vitae più attraente per le aziende? Sfoglia il nostro
catalogo on-line
e scegli il corso, o i corsi, più adatti alle tue necessità. Rimanere sempre informati ed aggiornati, è il modo migliore per rimanere competitivi nel mondo del lavoro.
Che cos'è Oracle?
Oracle è il
Database più utilizzato nel mondo
, progettato per essere eseguito virtualmente nello stesso modo su tutti i tipi di computer, dai PC ai Macintosh, dai microcomputer ai mainframe.
Saperlo utilizzare su una piattaforma significa saperlo utilizzare ovunque
, permettendo in questo modo un'importante astrazione dai supporti hardware e software. Oracle si fonda su un linguaggio
facilmente accessibile da chiunque
, inserendo semplicemente una
query
in lingua inglese. In questo modo, questo Database, è
utilizzabile da più categorie di utenti
: utenti per nulla esperti, per operazioni semplici come l'inserimento di dati, utenti esperti di DB, che però non conoscono Oracle, ed utenti che già lo conoscono ma che vogliono migliorarne l'utilizzo. Inoltre, riducendo le distanze tra sviluppatori ed utenti, Oracle permette di creare applicazioni e risultati finali di qualità superiore.
Programma
Introduction
Course Objectives
Course Schedule
Overview of Oracle Database 12c
Overview of Oracle Cloud
Overview of the HR Schema
Exploring the Oracle Database Architecture
Oracle Database Architecture: Overview
Oracle Database Instance Configurations
Connecting to the Oracle Database Instance
Oracle Database Memory Structures
Process Architecture
Process Structures
Process Startup Sequence
Database Storage Architecture
Managing the Database Instance
Introducing Oracle Database Management Tools
Understanding the Enterprise Manager Management Framework
Logging in to Oracle Enterprise Manager Database Express
Using the Enterprise Manager Database Express Home Page
Using Enterprise Manager Cloud Control
Using SQL*Plus
Using SQL Developer
Initialization Parameter Files
Configuring the Oracle Network Environment
Oracle Net Services Overview
Oracle Net Listener Overview
Establishing Oracle Network Connections
Tools for Configuring and Managing the Oracle Network
Using the Listener Control Utility
Using Oracle Net Configuration Assistant
Using Oracle Net Manager
Using Enterprise Manager Cloud Control
Managing Database Storage Structures
Understanding Storage of Data
Database Block Contents
Exploring the Storage Structure
Creating a New Tablespace
Overview of Tablespaces Created by Default
Managing Tablespaces
Viewing Tablespace Information
Using Oracle Managed Files
Administering User Security
Database User Accounts
Predefined Administrative Accounts
Creating a User
Authentication
Unlocking a User Account and Resetting the Password
Privileges
Roles
Profiles
Managing Data Concurrency
Overview of Locks
Locking Mechanism
Data Concurrency
DML Locks
Enqueue Mechanism
Lock Conflicts
Managing Undo Data
Undo Data Overview
Transactions and Undo Data
Storing Undo Information
Comparing Undo Data and Redo Data
Managing Undo
Configuring Undo Retention
Guaranteeing Undo Retention
Changing an Undo Tablespace to a Fixed Size
Implementing Oracle Database Auditing
Separation of Responsibilities
Database Security
Monitoring for Compliance
Standard Database Auditing
Unified Audit Data Trail
Separation for Duties for Audit Administration (AUDIT_ADMIN and AUDIT_VIEWER roles)
Configuring the Audit trail
Specifying Audit Options
Performing Database Maintenance
Database Maintenance
Viewing the Alert History
Terminology
Automatic Workload Repository (AWR)
Statistic Levels
Automatic Database Diagnostic Monitor (ADDM)
Advisory Framework
Enterprise Manager and Advisors
Managing Performance
Performance Monitoring
Tuning Activities
Performance Planning
Instance Tuning
Performance Tuning Methodology
Performance Tuning Data
Monitoring Performance
Managing Memory
Managing Performance: SQL Tuning
SQL Tuning
Oracle Optimizer
SQL Plan Directives
Adaptive Execution Plans
SQL Advisors
Automatic SQL Tuning Results
Implement Automatic Tuning Recommendations
SQL Tuning Advisor
Managing Resources by Using Database Resource Manager
Database Resource Manager Overview
Database Resource Manager Concepts
Using the Resource Manager
Default Maintenance Resource Manager Plan
Default Plan Example
Resource Manager Workflow
Specifying Resource Plan Directives
Resource Allocation Methods for Resource Plans
Automating Tasks by Using Oracle Scheduler
Simplifying Management Tasks
Understanding a Simple Job
Core Components
Basic Work Flow
Persistent Lightweight Jobs
Using a Time-Based or Event-Based Schedule
Creating a Time-Based Job
Creating an Event-Based Schedule
Managing Space
Space Management Overview
Block Space Management
Row Chaining and Migration
Free Space Management Within Segments
Types of Segments
Allocating Extents
Allocating Space
Creating Tables Without Segments
Backup and Recovery Concepts
Categories of Failures
Flashback Technology
Understanding Instance Recovery
Phases of Instance Recovery
Tuning Instance Recovery
Using the MTTR Advisor
Media Failure
Configuring for Recoverabilità
Moving Data
Moving Data: General Architecture
Oracle Data Pump
SQL*Loader
External Tables
Working with Oracle Support
Using the Support Workbench
Using Enterprise Manager
Working with Oracle Support
My Oracle Support Integration
Researching an Issue
Logging Service Requests
Managing Patches
Applying a Patch Release