Business Coaching is a relationship between a qualified professional (the coach) and an individual committed to achieving very challenging goals. Is one of the most effective ways to develop managerial skills.

The Coach helps define practical behavioural strategies to be implemented in the workplace, to achieve goals of personal growth and improvement in the relationship with others. This strategies may be difficult to implement without a guide, an external point of view.

The Business Coach allows its customers to respond to their challenges with specific and elaborate solutions in full autonomy: creating the conditions for the individual potential to be fully expressed.

Relevant managerial experience, combined with entrepreneurial experience and coaching skills on an international scale, allows our coaches to support customers in organizational and very complex business contexts.

Coaches can support: managers (corporate coaching), directors, leaders and top managers (executive coaching), individuals in the process of growth (career coaching) and, in general, individuals whose actions have a direct impact on business (business coaching)

Business Coaching is a strategic and winning choice to successfully deal with, and overcome crisis and changes like those we are experiencing.

"…Coaching is an accelerator of results, it helps you to be more focused, avoiding wasting of time and energy…"

TEAM COACHING
What determines the performance of a team?
Mutual trust
Integrate team members' diversity
Mutual knowledge of each team member's strengths and development
Availability for constructive and transparent comparison
Knowledge sharing
Awareness of the common purpose and objectives
Conflict management
Effective decision-making processes
Clarity of roles and activities
Psychological security
Leadership Styles
Internal and external communication
How to collaborate
Team Coaching enhances energy and focus, laying the groundwork for the creation of a "culture of performance".
A proof of this is that, born to improve the performance of top teams (Board of Directors, Management Committee) the use of Team Coaching has been gradually extended even to intermediate teams.
Researches show that the best team coaching results are achieved when:
A team has just been formed and needs to quickly fit into business logics and goals;
An already normalized team must be made performing;
A team needs a motivational boost;
A team needs to solve internal relational problems;
A team wants to become (for results, values and approach to business) the reference for the company.
How to do it
Identify, in collaboration with qualified and accredited coaches, which teams are the ones to invest on to. Priority is achieved by combining the importance of the team for business results with its predisposition to the coaching process. At this stage, the role of the leader is critical to hindering or facilitating the process.
Once the Teams has been identified, the Coaches will agree with the company and with each of the team leaders, the expected objectives and the "rules of engagement" that will guide the work.
Team Coaching sessions led by two Qualified Coaches usually last 2 or 3 hours with a monthly frequency. It is advisable not to spend too much time between sessions.
Tools to support Coaching activities
In the definition of a task of Team Coaching or Coaching one to one, an initial Assessment Test can be provided in accordance with the company, to get a truthful picture of individuals and the team in order to identify weaknesses to work on and the strengths to stand out.
The various types of Assessment Tests analyze key indicators such as Behavior, Emotional Intelligence, Leadership, and Communication skills among others.
The official TTI Success Insights® and Six Seconds Assessment Tests can only be administered and analyzed by accredited and certified professionals.
Accredited Coach Profile
A. Morici – Business Coach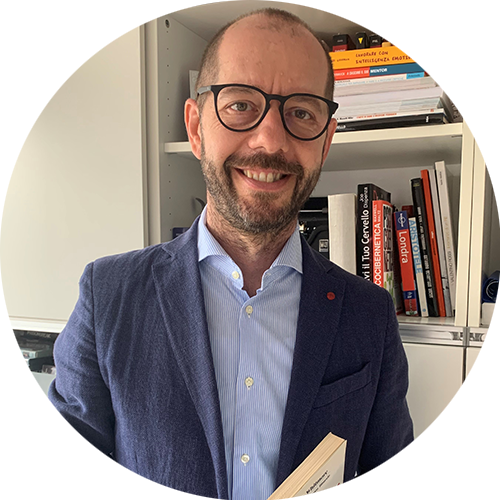 Professional Certified Coach _ICF
EQ Assessor _ Vital Signs Certified Six Seconds
Accredited Consultant TTI Success Insights® Italia
Italian Chapter Vice President
European Mentoring Coaching Council