There are no such things as shortcuts in Business Training.
We believe that working life quality can be improved, through training, starting on the right foot. If you think about training as a trip, here's what you shouldn't overlook before setting off:
Training Needs
When choosing a course, or training plan, do not give in to the temptation to follow your instinct or habit. Let us advise you in identifying what your real needs are. In fact, the most "common" courses are not always the best answer. We can help you, through interviews and preliminary tests, to accurately define your true needs.
Skills assessment
Look at the training process as a bridge between the initial and final skills. With objectives too "high" it will be uphill, making the training experience difficult and unproductive. Conversely, if the goals are too "low", then the path will be unhelpful. This is why mapping participants' skills with targeted assessment tests helps define the most effective path.
Planning interventions
The distance traveled and the time it takes to cover it are two parameters that describe the exact learning experience.
Some courses can be approached as a sprint; others, more like a marathon, take longer. Knowing how to recognize the difference allows you to plan your lessons taking into account the interventions duration and the time needed to recover; just like during a run. Precise timings, such as corporate ones require an effective training.
Educational methodology
Training is useful when it produces real changes.
If you turn to us you do it to improve or acquire useful skills for your work. You posses the tools to do your profession, our aim is to teach you how to get familiar with them to enhance your work. A practical training, where the content is addressed from the point of view of those who knows how it works. To get the best out of a training experience you need to "get your hands dirty". We don't settle to pass on just the skills, we put you in a position to use them right away. We are convinced that the results of good training can be seen by looking at what is being done.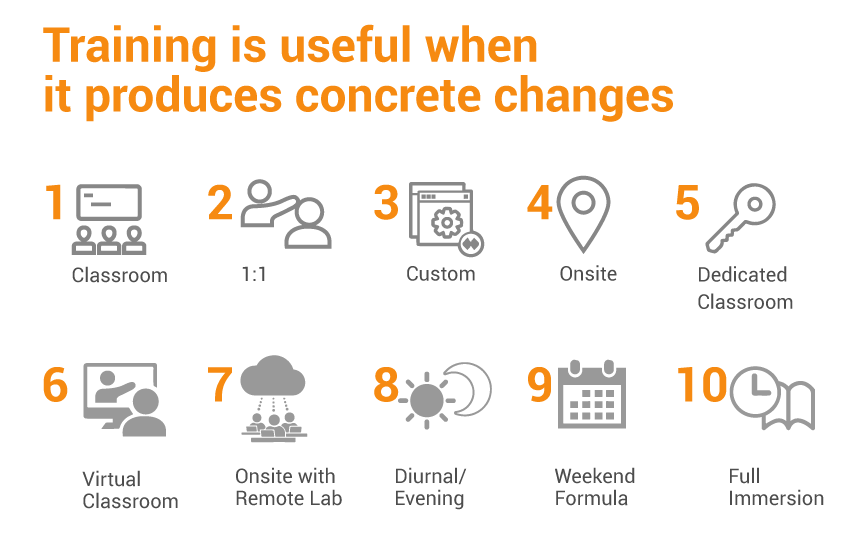 ITCore Group Teachers
We achieve these results thanks to people who know how to draw on their business experience to offer lessons that reflect yours. We all had "that teacher" who could get us passionate, those lessons that we still remember years later. A training course is not just a program, and a teacher is not just "a trainer".
The main quality of our teachers is the communication ability. We think that training is effective if it can be transmitted and remembered. From a technical stand, our teachers hold the world's leading computer certifications:
Microsoft MCT, MCSA, MCSE, MOS Master Instructor, MCTS, MCITP, MCSD, MCDP CISCO CCNA, CCNP, CCDP, CSE, CCIE Vmware VSP, VTSP, VCP Citrix CCE, CCP Adobe ACA, ACE Oracle OCP, OCA
Our Standards
Quality is not a certificate that we cluelessy claim.
ITCore Business Group srl, is a B.U. of ITCore Group who manage Business and Private Training, It sees quality as a standard; a compass that guides choices and relationships. Having obtained International Certification UNI EN ISO 9001:20015 is for us the testimony of a modus operandi that characterizes our work, and that we are pleased to be able to share.
Funded training
Education always needs to corresponds to a necessity.
If you are evaluating a training plan it means that you have needs in your company, or in your career. To satisfy them you have several possibilities, one of them is the activation of a funded training plan. In Italy it is possible to draw on funds that finance company training, in some cases up to 100%, no fee.
It is an option that lowers business costs and that, thanks to its annual cadence, allows you to plan training plans even in the long run. Think about the benefits of a single training course, and imagine how much you could benefit from a long-lasting plan.
How do I get into Funded Training? It's simple. We can support you in the request, and in the design of the training path; we regularly manage projects of this type with:
Fondimpresa and other inter-professional funds
Fondartigianato, for companies in the Lombardy region
Forma.Temp , fund for training workers in administration
Agenzia del Lavoro di Trento
The catalog
Catalog is the heart of our educational offering. It's the result of constant updating, being perfected based on the feedback of our teachers and participants.
The courses are suitable for most of a company's needs. All the courses needed to achieve official certification are included.
Catalog Course or Custom Course?
The most frequently asked question. It arises from the fact that the training offer is so vast that it is, at times, overwhelming. We suggest a reflection before choosing, keeping in mind that the goal is the most useful mode for you. You may think that a "standard" course is not suitable for your needs, be tempted to choose a personalized course that may seem like a viable alternative.
Be careful. Do not confuse knowledge of a topic with competence. This error often leads to choosing a custom course, without considering the uniformity, or the completeness of the bases.
When to choose a Custom Course?
The higher the level of specialization, the greater the need to customize a program. In these situations, the custom course is the ideal choice. After an analysis done together and making sure that the basic skills are at an appropriate level we will propose a personalized version of the program.
Partnership
The path of formation is not to be walked alone. Each course is a piece of the road made together with the participants, teachers and our partners; fellow travelers who have qualified our offer and the professionalism of our approach.
Microsoft has enriched our catalogue of official courses (MOC), essential for the most prestigious technical qualifications in the IT sector, MOS certificationsn and Microsoft Office applications.
Collaboration with Esprinet, Vmware Authorized Training Centers (VATC) allows us to provide official Vmware courses, up to the latest versions.
Courses taught by Vmware Certified Instructors that can indicate the Best Practices that the brand recommends to adopt.
The Best Practices of ITIL® e PRINCE2® joined our catalog thanks to Green Mill Solutions. ITCore Group is a Reseller of training courses ITIL® e PRINCE2® which are provided by Green Mill Solutions, Accredited as ATO from PeopleCert.
Integrated Training
Innovation is the novelty that enters your "home". Training is the instruction booklet.
ITCore Business Group srl lives in the broader ecosystem ITCore Group, shared with the other units. What we do for them reflects what we bring to the classroom every day, but applied to different situations.
When a partner of the group develops a project, we intervene with our teaching force to close the gap that is created between the "new solution" and those who will have to use it.
It is in this "shadow cone" that the uncertainties arise. In the face of the frightening novelty, the natural reaction is the defensive one.
We want to illuminate that shadow cone and help those who work to make their skills their own, without fear. We work side by side with the technicians who develop the solution, we become familiar with the working reality to which it is intended, and we design specific training sessions.